I have one favour to ask if you're reading this page. Please share the link to this page, this collection on Twitter, FaceBook, Instagram, Discord so that people can see it. Thank you.
If you can include the hashtags #NFT #theWockyCollection #NFTcommunity it will be greatly appreciated. 
WHY THE "Salvation Collection"?
Due to political problems, violence, and government interference in my business, my partner, myself, and our three cats emigrated to New Zealand in 2019. We have been stuck in limbo since 2019 – awaiting residency.
In South Africa, we had a house, and I had a successful business for over 20 years, and due to financial controls, a weak currency, we lost almost everything, starting all over again at age 49 (albeit in a much safer country).
This is a shot to see how NFT works and hopefully give us enough to put a deposit on a house – average house prices in Wellington NZ are about NZD$800,000 for a decent 3 bedroom house.
This collection is rare, and will hopefully, with the compassion of the crypto and NFT community, give us a chance to have a shot at starting over.
Heck, with a bit of luck, and time, it could become the most valuable NFT collection – can dream, right? 🙂
The collection is ultra-rare and unique. It's theWocky – a unique dragon logo that I had designed in about 2005 or so for my online store. I use it as an avatar on some forums as I used to have a YouTube channel.
Unique 25-piece NFT Collection link here: CLICK HERE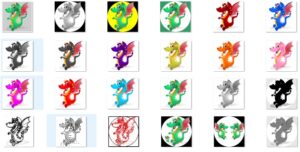 ETH Donations here (thank you): 0xc638C35784f34F906Dd6970AC841eA99E3f68a07
QUICK TEXT FOR POSTING ON SOCIAL MEDIA (thank you):
rare, limited once-off NFT collection: theWocky Collection aka "the Salvation Editon"
CLICK LINK FOR MORE DETAILS: https://cravencoetzee.com/thewocky-collection-aka-the-salvation-editon
Apologies to long-term subscribers for spam, but if you can re-share, re-post, re-tweet, it will be appreciated. 🙂
*Direct link to collection: https://opensea.io/collection/thewocky
#NFT #BTC #ETH #crypto #cryptocurrency #RareCoins #NFTs #NFTcollectibles #NFTCommunity #nftart #cryptoinvestment #ethereum #rareNFT #collectibles #theSalvationCollection #theWocky #RT #share #thankyou